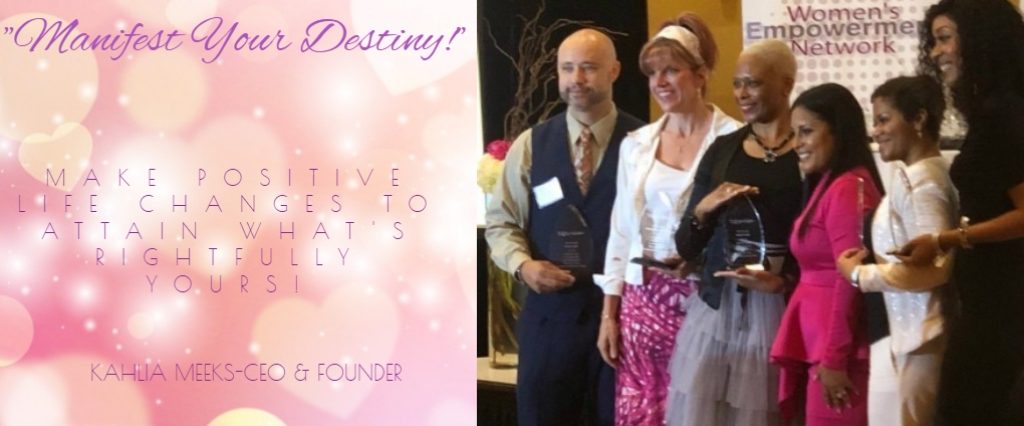 Through Kahlia's positive philosophies, many have learned to manifest what they want in their lives: Physical, mental and spiritual well-being.
Known as "the faith-walker" by family and friends, Kahlia Meeks has an untouchable confidence in faith. Since childhood, she has achieved realistic goals that many would deem unattainable. Through all circumstances, she kept her head high and persevered by having strong faith, spirituality, hope, and a positive outlook on life. She can take any negative situation and turn it into a positive one. Life was not always so positive for Kahlia due to choices she made which were non-conducive to positivity. Through years of self-discovery and sacrifice, she made peace with herself. She learned that she could no longer blame others for their actions which had an influence in her life, but instead accept accountability and face the root-cause of circumstances discovering that she had full control over all outcomes.
Kahlia Meeks is a compassionate, loving humanitarian who has dedicated her life to positively changing the lives of others by offering motivation through positive reinforcements. Personal development and the manifestation of destiny is her method of motivating others by providing key life tools to allow goals and visions to be attained. Kahlia has an Associate's degree in Radiologic technology, a Bachelor's degree in Human Resources and Organizational Development and an MBA with a specialization in business administration. She is also a licensed healthcare risk manager. As a healthcare clinician and global C-Level executive, she has impacted the lives of thousands with her positivity while in leadership roles. All communications and enforcement of new organization wide initiatives were always conveyed in a manner that carried open-communication and willingness to support any questions to new changes.
Kahlia stepped out on faith and obedience in order to fulfill her life's purpose and begin her legacy. She is a published author, the successful President and CEO of Kahlia Meeks Enterprises and Illustrious Consultants, a motivational and keynote speaker, the founder of non-profit organization, Jumpstart Towards Success, a share your story speaker with Women's Empowerment Network (also known as WEN), and a certified member of her graduate school's alumni association's mentorship program (in addition to many other professional licenses, certifications, and awards). She has also assisted in personal and community efforts to help children, women and men understand the paths of their lives so they can execute their visions to have better and more fulfilling lives through one on one coaching. Kahlia commits her life to helping others by coaching the logical truths of life based upon her wisdom and personal truths.
Kahlia spreads words of inspiration, encouragement and motivation to thousands of people. From speaking to individuals on how to manifest the destinies of their individual divine birthrights, organizations on how to execute missions to make their visions a reality, children about the tools they need to succeed to make it in life, and being selected as the honorary commencement speaker for her undergraduate class, and a Share Your Story Speak at WEN's annual conference, Kahlia decided to make changing the lives of others a priority. She dedicates her life by sharing her wisdom on personal development and provides positive reinforcements in order for the masses to execute their visions and manifest their destinies to build and attain tangible and intangible success and legacies.